In one look
Expert Rating
Benefits
Fantastic frontal captures (especially at night)
Touchscreen
wiring kit
Numerous driving assistance functions
Radar optional
The inconvenients
No internal GPS
Uses proprietary power connection
Expensive optional OBDII and auxiliary power cables
Our opinion
This two-channel dash cam (rear camera included) takes fantastic front-end video at night and sports an easy-to-use touchscreen. But that's expensive for a dash cam without internal GPS.
Price when reviewing
$299.99
Best prices today
$229.99
Free
The $300 Thinkware X1000 dual-channel (front/rear with camera) dash cam delivers outstanding front-facing video captures (day and, most importantly, night). It also has a practical IPS touchscreen, a host of driver assistance functions and a connection for an external radar (actually LiDAR). It is very powerful, but expensive for a device without internal GPS.
This review is part of our roundup of the best dash cams. Go there for more reviews and shopping tips.
Design and features
The X1000 is a rectangular unit measuring 4.1 inches wide, by 2.4 inches high, by just 1 inch deep – the lens housing doesn't protrude very far as you can see from the photos. The front and rear cameras provide a wide field of view of 156 degrees, covering most of the area around the vehicle. Both cameras feature 2560 x 1440 resolution, offering a good amount of detail and high dynamic range (HDR) color.
On the back of the main camera is a clear and colorful 3.5-inch touchscreen which is used to view live camera input (front and back) and adjust settings. It took me a bit of getting used to the screen as it required firmer pressure than the recently reviewed Cobra 400D. It was also harder to read during the day from a distance, largely due to the amount of red text used on the main screen. I'm picky, however, it's fun and easy.
Above the main body is a coupling for the semi-permanent sticky backing. The rear camera is fixed on its semi-permanent support, although the cable is removable. If I leave a camera on the windshield here in San Francisco, it'll be gone in a week. For some reason they never took a rear camera.
Also above the main camera are the power jack, GPS jack (GPS is a $40 option and another cable), radar jack, and mini USB jack for the rear camera. The left side of the device features the power button, microphone, and reset button (pinhole), while the right side houses the micro SD card slot. Note that a 32GB SD card is included, which is always a nice bonus.
Again, the radar is actually a LiDAR module used to enhance driver assistance features. It is not for detecting RADAR signals from law enforcement.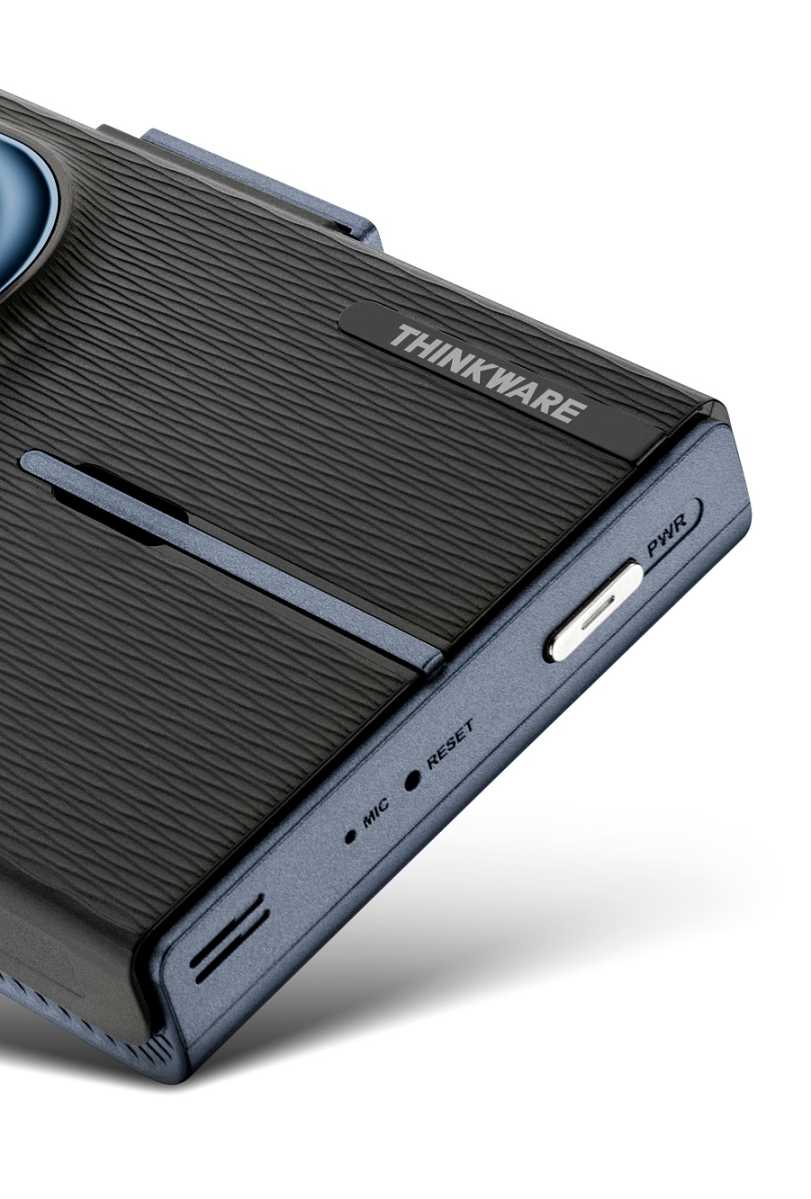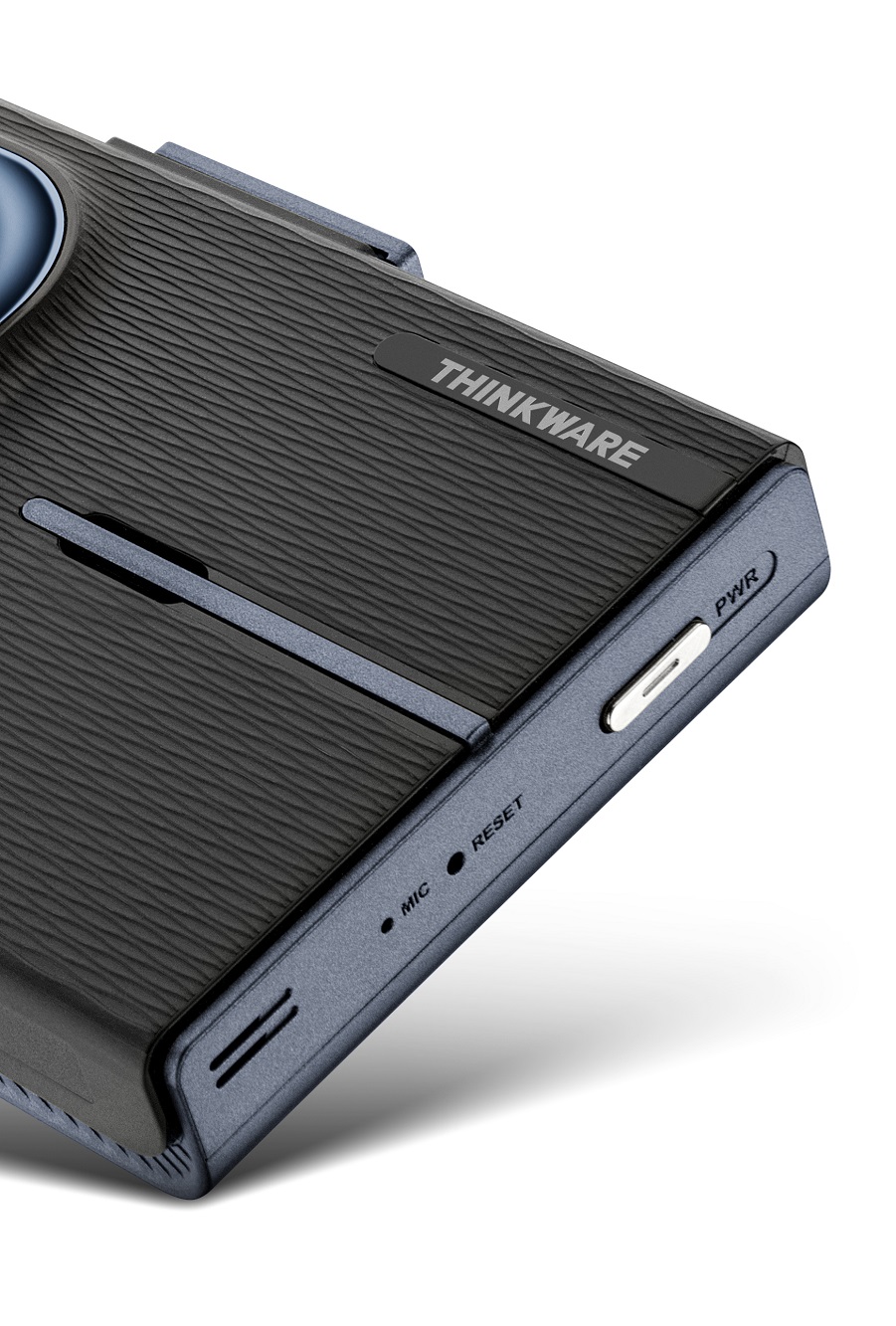 The X1000 is packed with a host of driver assistance features. The camera notifies you whenever it detects that you have left your lane, are approaching solid objects in your path, or are slow to leave the light.
The dash cam is pretty vigilant in these warnings and I ended up turning off the assist features because I just didn't need them. That said, the whistling didn't bother me. In fact, I missed it when it was gone. It was like having a friendly bird sharing the cabin. Go figure, and kudos to Thinkware for that.
More mundane features include parking mode (wake up on impact), plus sensitivity settings for just about everything. You can disable HDR if for some reason you don't like the color.
Wired, Proprietary
Uniquely, in our experience, the X1000 comes with fixed wiring rather than the more common auxiliary (cigarette lighter) or OBDII power cables. The latter are available, but at a rather staggering price of $30 and $45, respectively. Thinkware's unusual coaxial power jack means you're probably stuck with those pricey deals.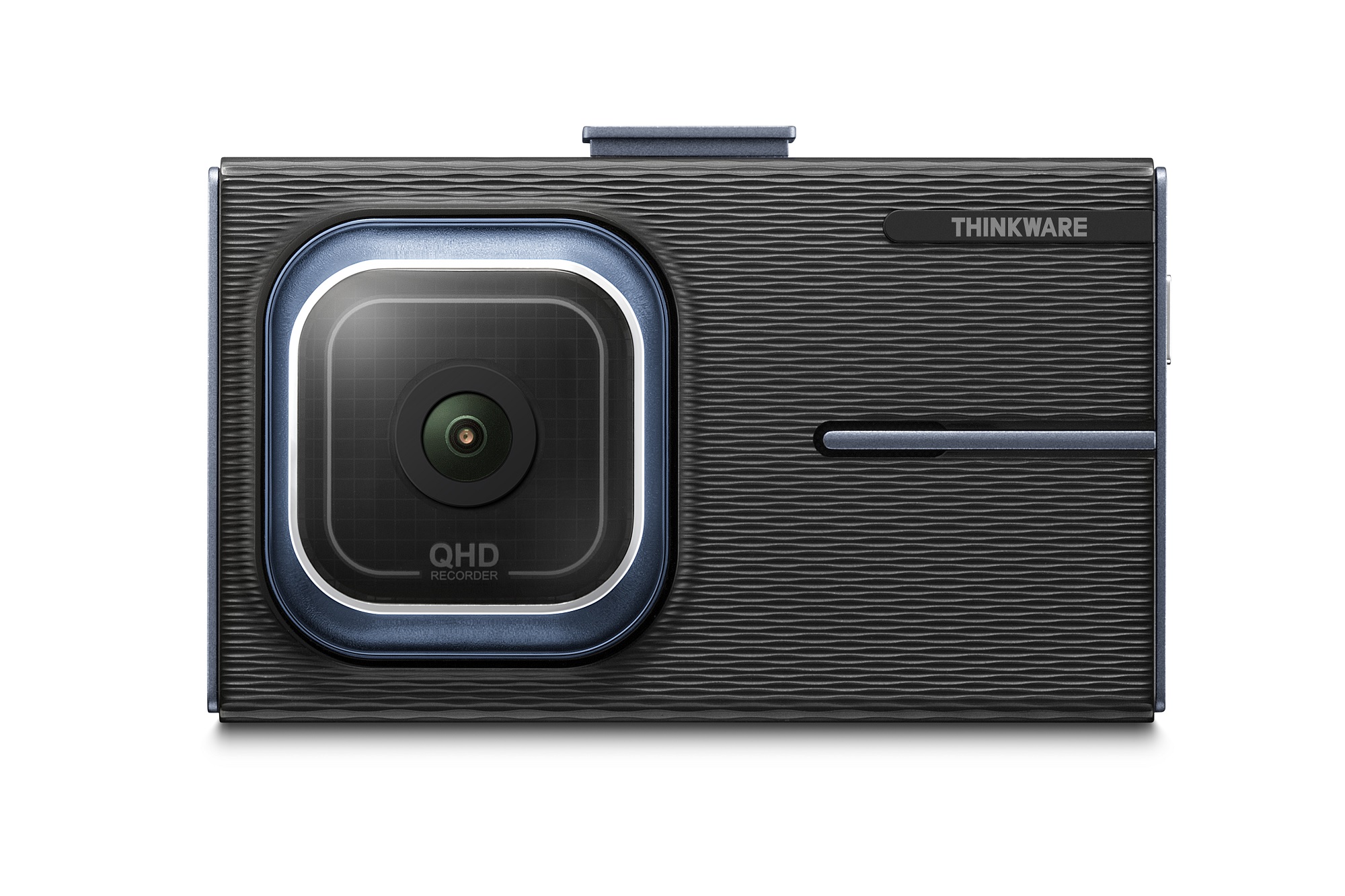 Obviously, if you want to wire that's no problem. But OBDII installations are almost as clean and much easier for the average user. Beyond that, if a Thinkware cable breaks or deteriorates on the road, you'll have to order online and wait. The cables with USB connectors that most dash cams use are often available at truck stops and gas station convenience stores.
Performance
Although I have issues with the X1000's price and proprietary wiring, it's impossible to criticize its front video. First, there's a noticeable lack of fish-eye distortion given the wide 156-degree field of view. Then there is the video of the day, which is well saturated and shows very good detail.
But night video is the real eye-popper. It shows a remarkable amount of detail, while handling glare from headlights and the like extremely well. The only cameras we've tested with the same detail in night shots are the Cobra SC400D and the Nextbase 422GW, 622GW. However, these require thinning to see the details, which the X1000 does not.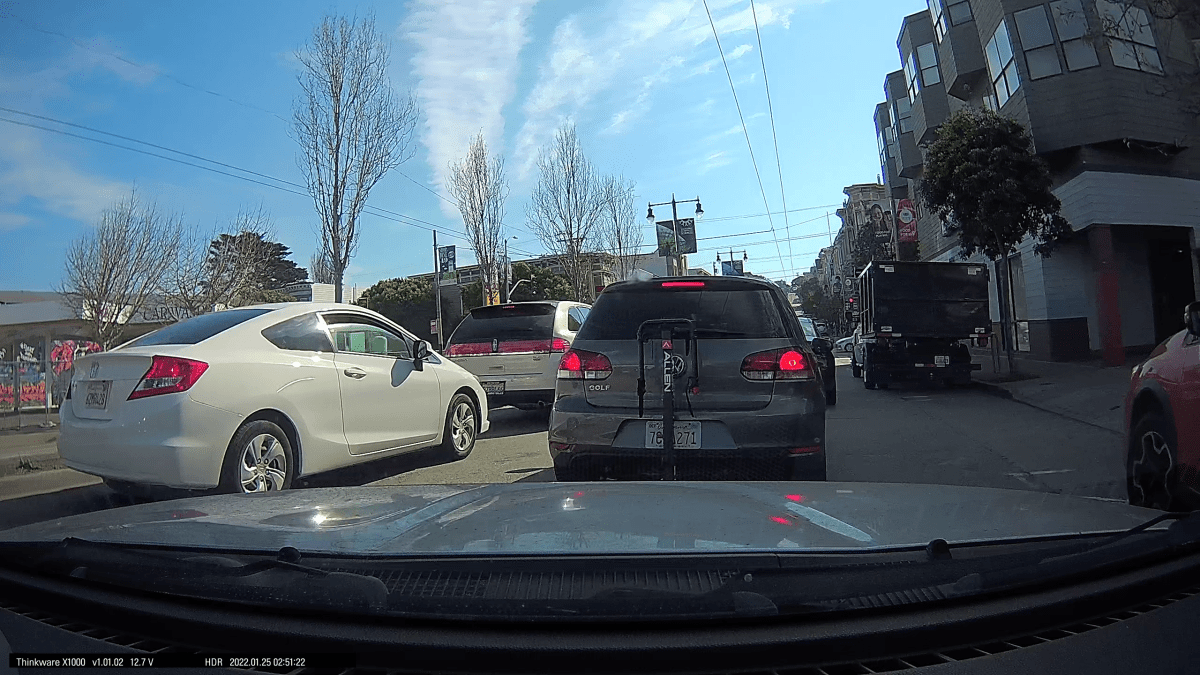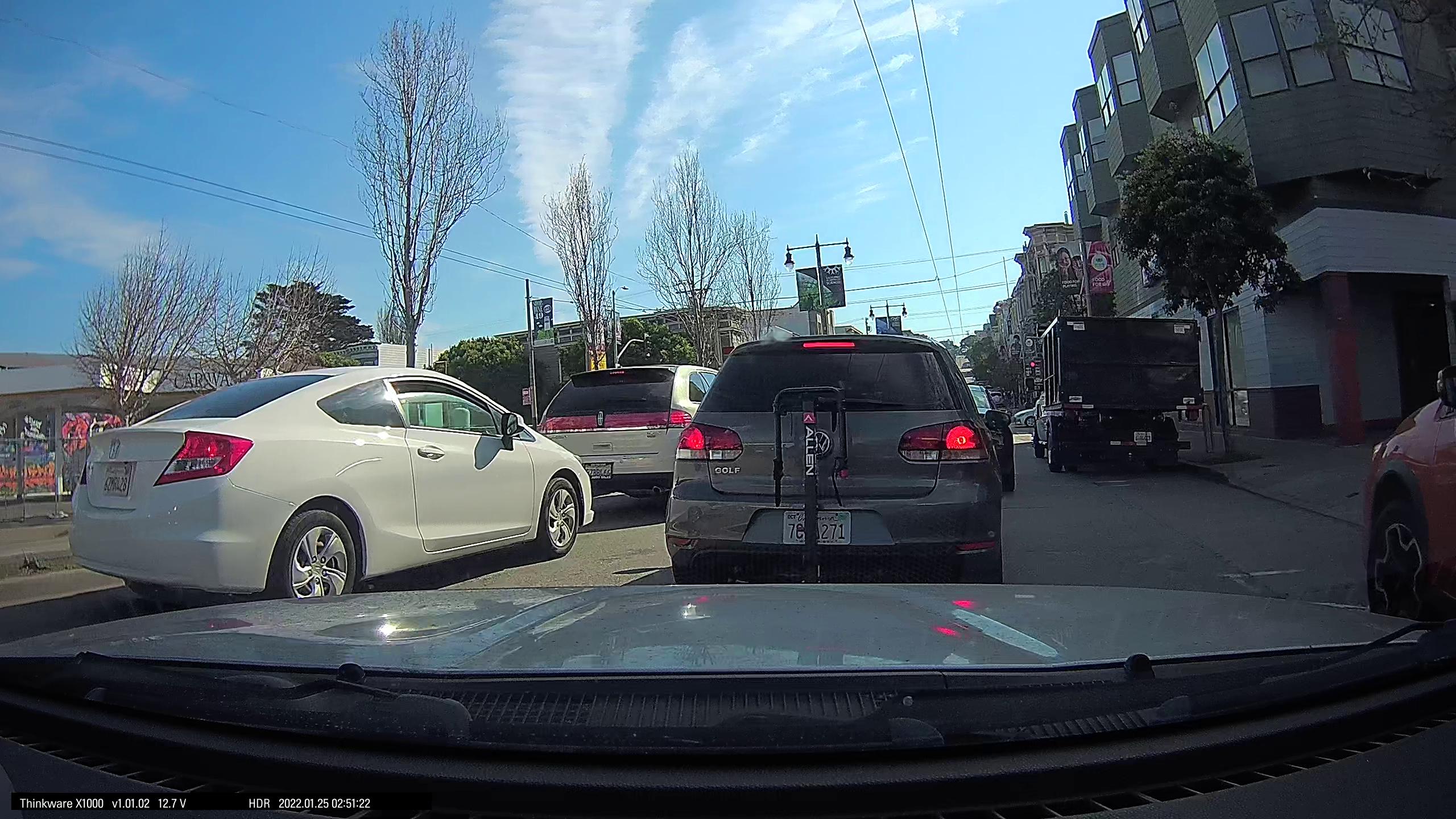 If you've seen the night catches in some of our other reviews, the one below will impress you. The detail is just fantastic, especially considering the 1440p resolution and the fact that it's a lot darker outside than the picture would suggest. Note that this is with the headlights off. With them, the details are even better.
You can disable this Ultra Night Vision processing and produce darker captures if you wish. It's not something I would do, but it is possible.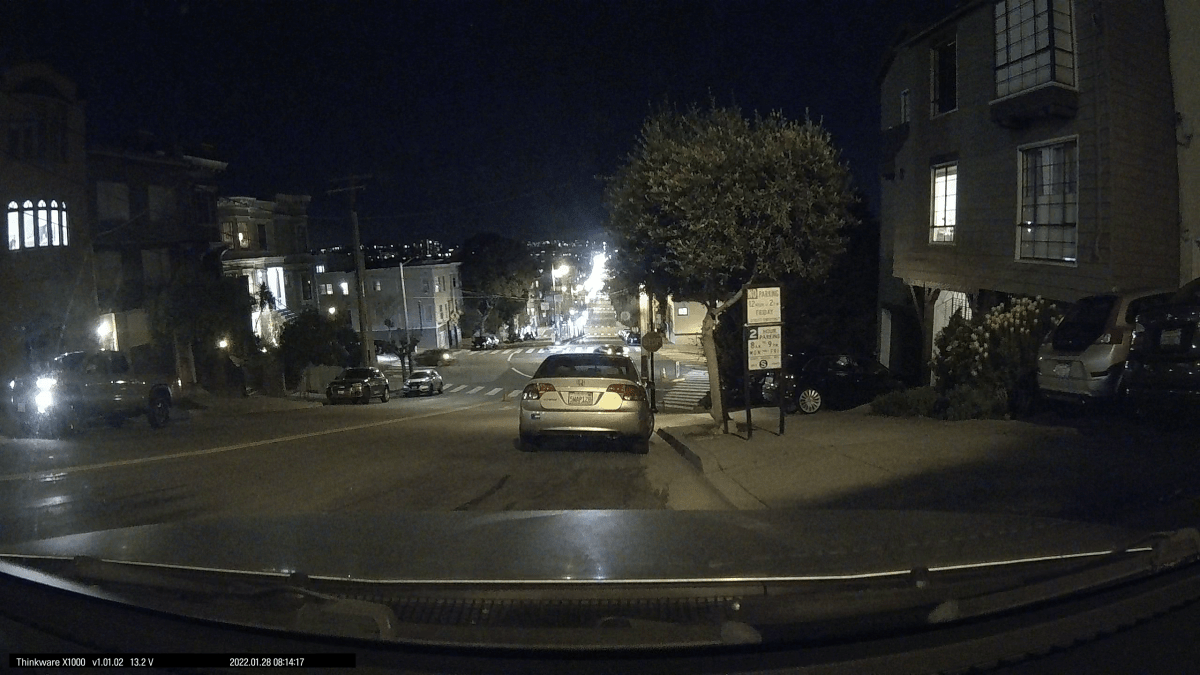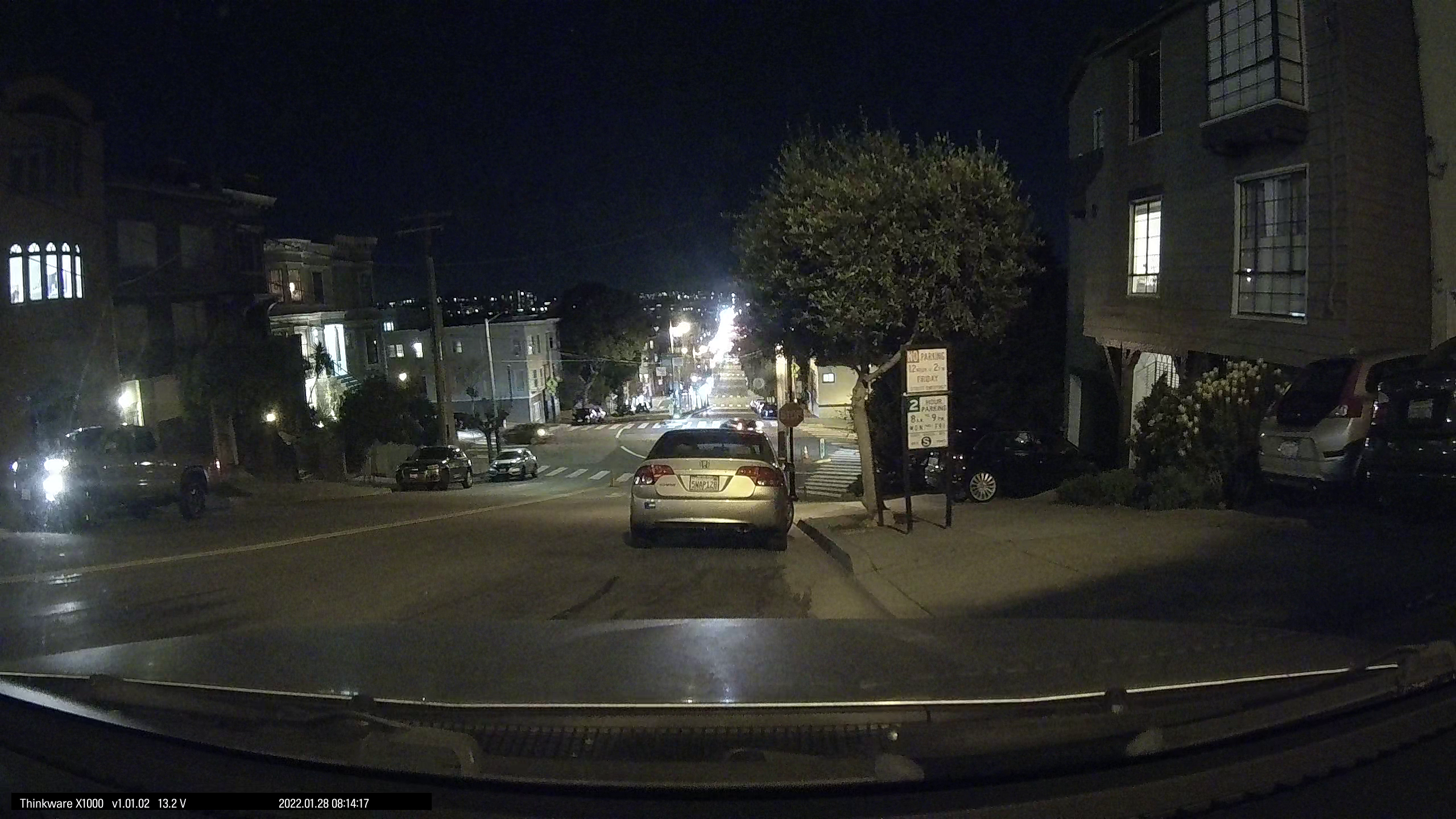 The rear daytime shots (below) weren't as detailed as the front, which is likely down to the optics. The colors are slightly duller, the heating wire of my rear windshield is crushed and the focus is disturbed (the horizontal blur at mid-height). The image is still quite good and the details adequate.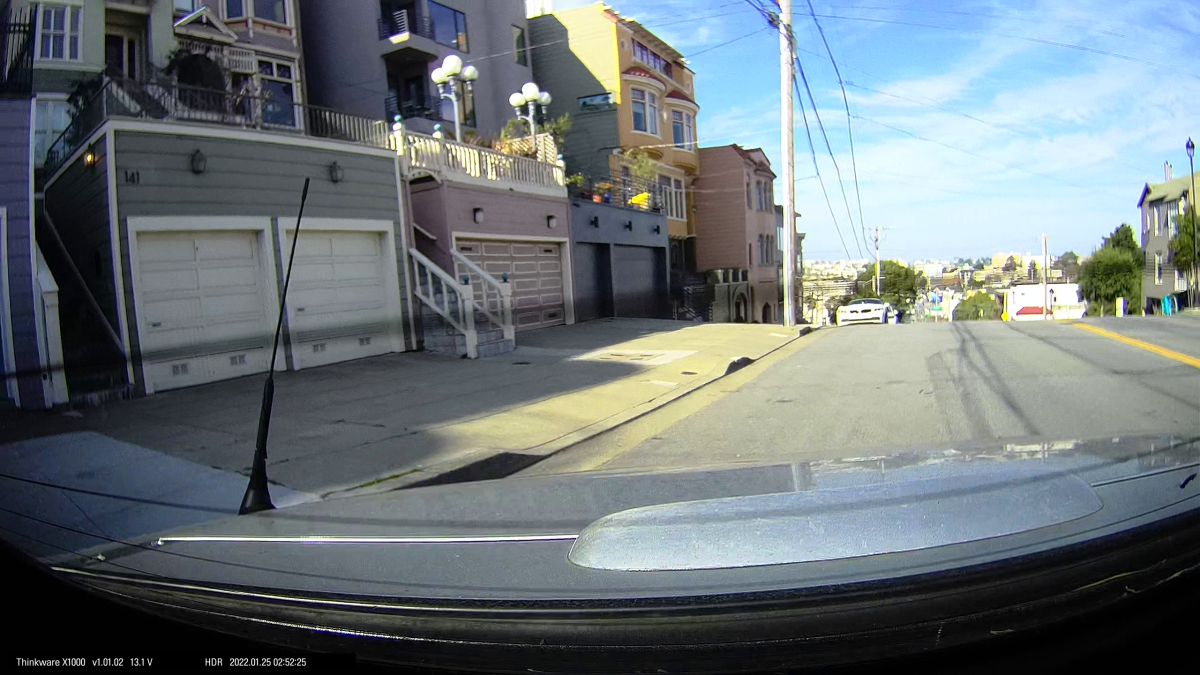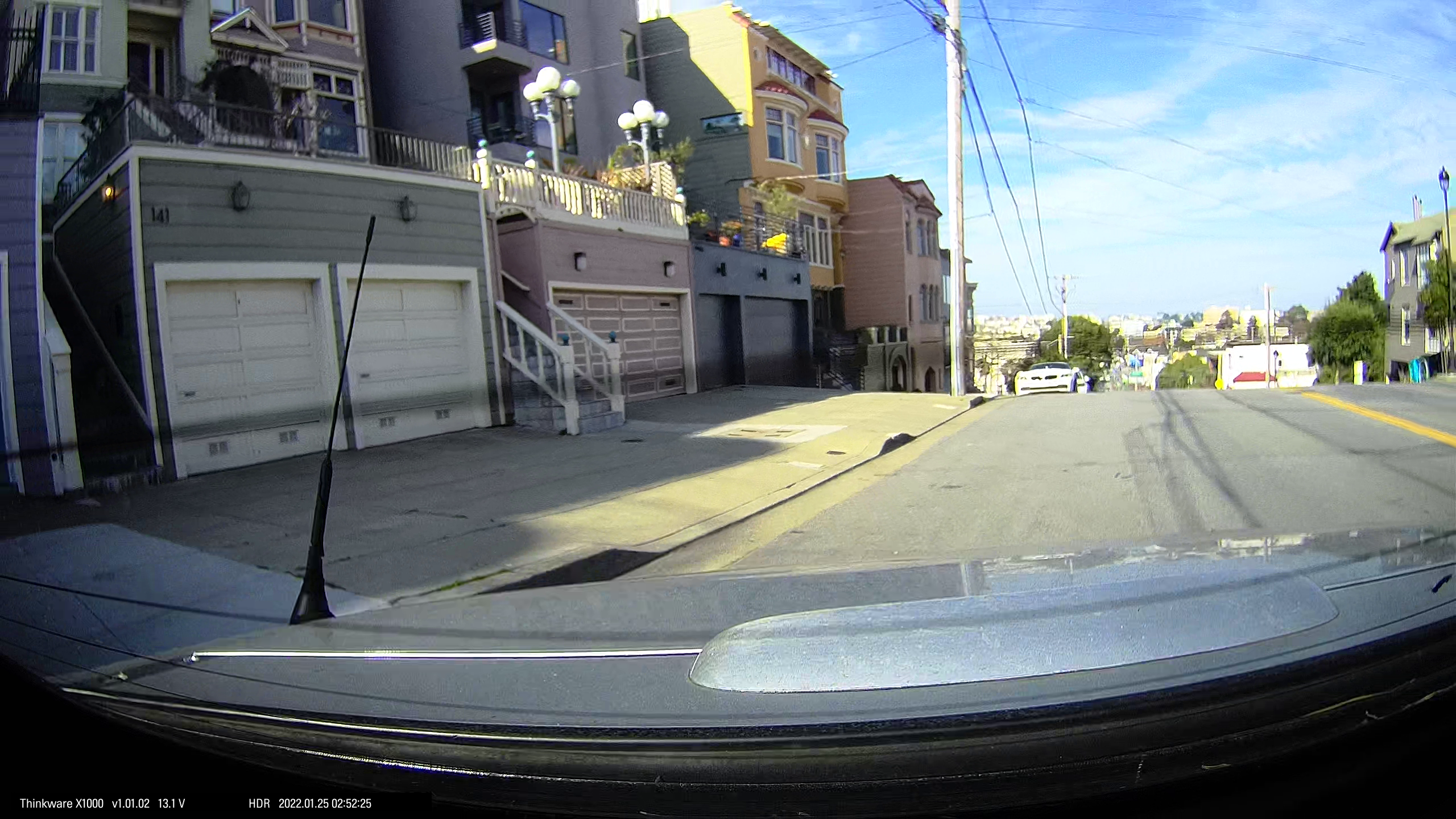 Rear night shots aren't quite as good as those from the front camera, although they're still usable. You can really see the heating wire (blue distortion) in this capture. This cabin can be remedied with more careful placement of the rear camera. Have someone stand outside the vehicle to tell you if it is properly placed.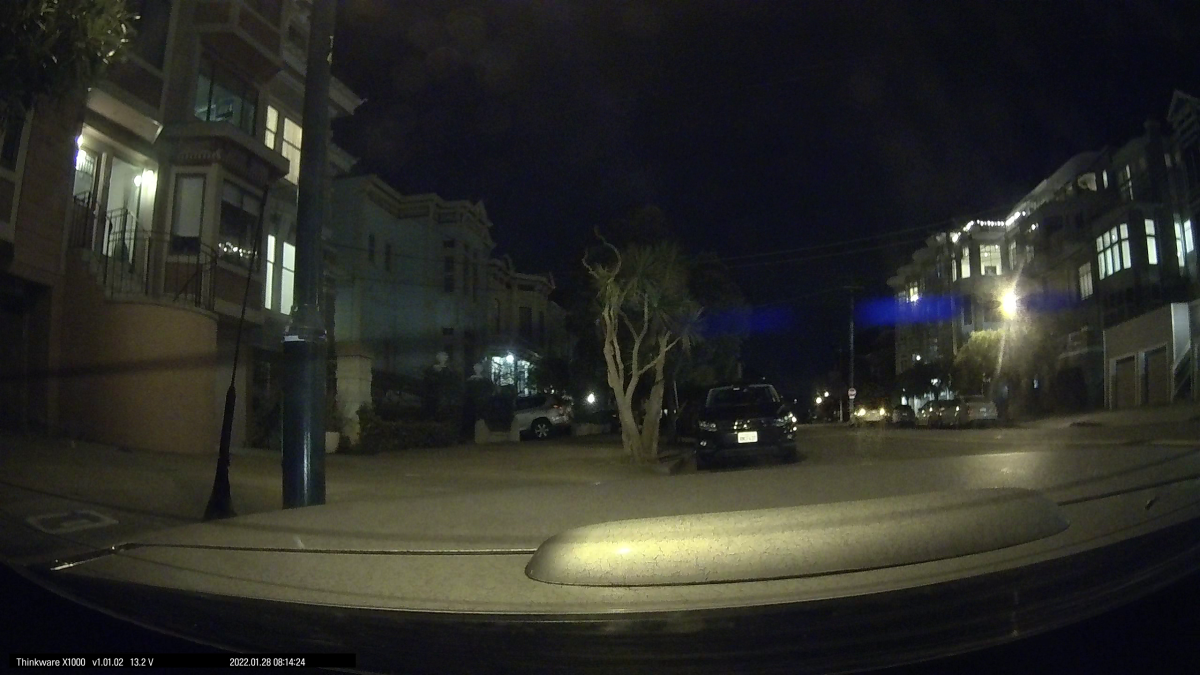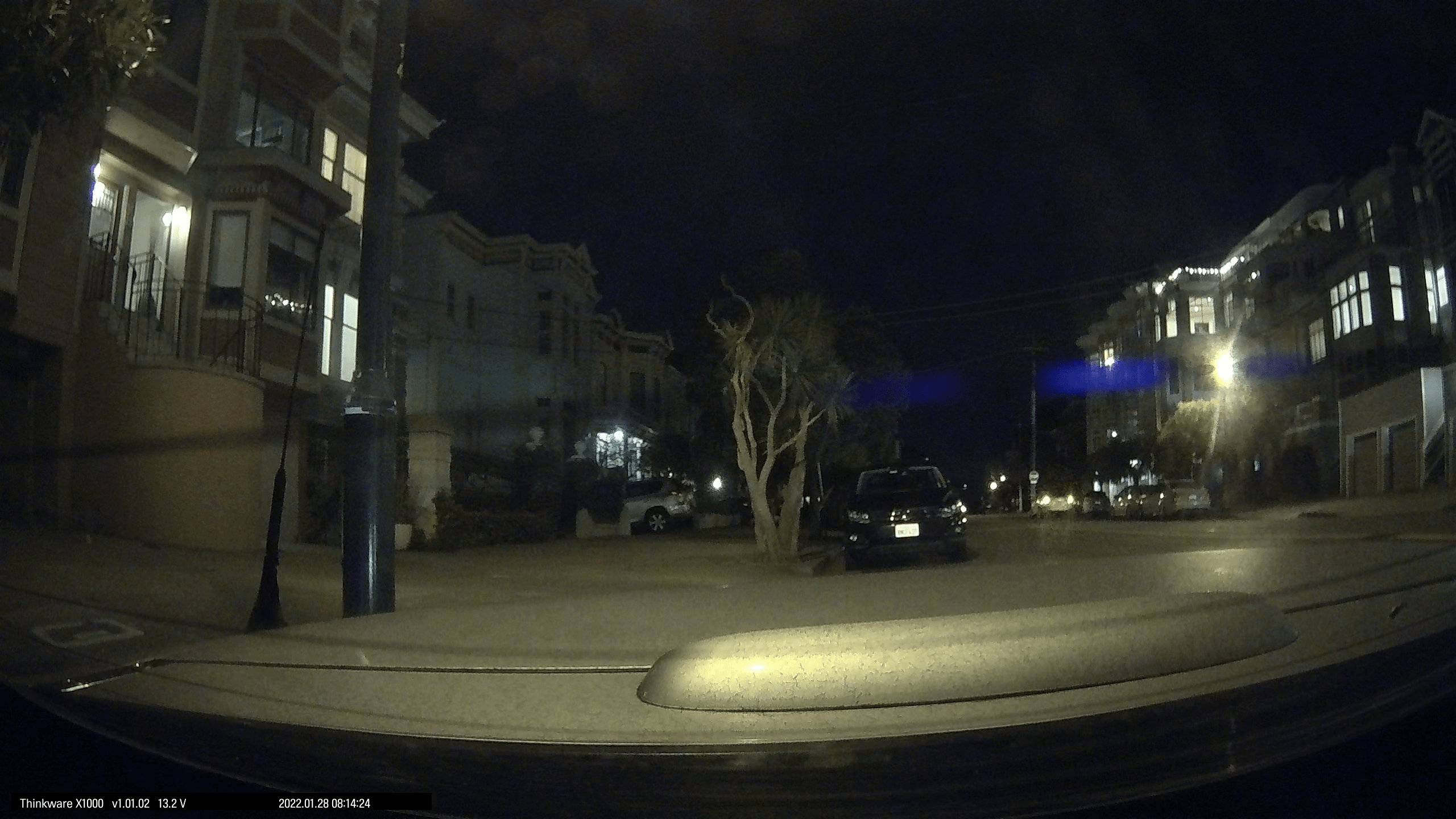 Worth it, but there is competition
The quality of the X1000's front-end video captures is undeniable: they're as good as anything we've seen at 1440p. It's also versatile with GPS and radar options and the touchscreen makes it exceptionally pleasant and easy to use. If you like driver assist features, the X1000 is a short list.
But again, there is the price. By the time you add GPS, you're talking close to $350. At this price, you'll also find the aforementioned $400 three-channel Cobra SC400D, which offers better rear captures and a third channel for an optional cabin camera, and the Nextbase 422GW/622GW, with their interior/ versatile rear modular.
Jon is a musician, former x86/6800 programmer, and lifelong computer enthusiast (late 70s) living in the San Francisco Bay Area.