I was driving through the northern Mississippi when I finally figured out I was going fishing with one of the greatest fishing legends of all time. That morning I loaded up my Toyota Tacoma with all my fishing gear for the occasion of my life.
Through my work at Source Outdoor Group, an outdoor marketing agency, I am fortunate to work for the great people at Millennium Marine and Millennium Treestands. My company manages their marketing, including public relations, media planning, creative design, and influencer management. My client, Millennium, sponsors Bill Dance and provides him with the chairs and seats you see on his boats. I hope you are now starting to see my connection to the greatest and most awkward fisherman the world has ever seen. I appreciate my relationship with the Millennium brand and the people there, and I'm so grateful that they gave me this opportunity.
I barely slept that night. I woke up every 30 minutes thinking it was time to get up and go fishing. When it was finally time to get ready, I got up and did some last-minute rigging in the Hampton Inn parking lot. I attached a few Berkley worms and blade baits on my Abu Garcia Veritas combos. I pitched in the front yard of the hotel and actually stuck a spinnerbait in a pine tree. I was getting a little nervous, so of course I had to do something stupid to make myself laugh. I pulled it out of the tree and luckily no one saw it happen.
Bill picked us up from our hotel that morning. He pulled his jon boat right outside the hotel, and it wasn't long before a guest saw him and asked for a photo. Bill being Bill acted like he had known the stranger for years. After that, we took off to Bill's private pond. Before I left the parking lot, I said "Mr. Bill, I don't know where I'm going, so don't leave me, okay?" It only took one red light to leave me in the dust. I got nervous and turned on the red light, but I haven't seen a ticket for it yet. We then returned to northern Mississippi and looped through western Tennessee to get to his private pond.
It took forever to get there, but when we finally got there I was sure I had never seen a prettier pond. It was huge, there were hills all around, standing timber and needle grass. I pulled out my Abu Garcia canes and thought, "I can't believe I'm putting my canes in the Bill Dance boat."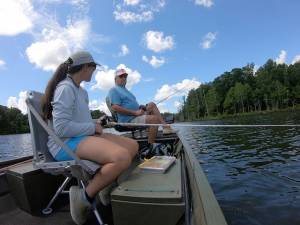 My favorite thing that I observed about Bill was that he didn't want anything. I asked, "Mr. Bill, what are you going to tie up for today?" He replied, "Well, dang .. I guess all I can find." I laughed, knowing that me and most of my fishing friends are so strategic that we could even dye the pliers on a chigger caw, cut the frog legs to a specific length and paint a little red streak on a crankbait, because that we think will give us some kind of competitive advantage. Bill literally got attached to whatever was within his reach and threw it away all day. Bill also has some nice boats and the boat we took further proves my point. His favorite boat is an old bass tracker, damaged and worn out from years of use.


I threw a white spinnerbait most of the morning, until I got the inner feeling I should switch to chartreuse and pink. I threw it near the wood with a medium speed recovery, just enough to spin the blade. I knew I had made the right decision when I felt a big hit my bait and run hard with it. He would take the line and run, and I prayed that he wasn't smart enough to wrap around the hundreds of logs in this pond and break. My client, William, was in the boat with us and said, "Uh… Bill, I think she has a good one. It takes the line! All Bill said was "Take your time .. Take your time .. Take your time." I took my time and was totally calm until the fish jumped. I swear in my eyes at the time, this fish looked as big as a whale. I finally got the fish back, rolled it up to Bill who grabbed the fish for me and put it in the boat. I had officially lost my mind. I grabbed a six pounder with Bill Dance. Absolute fat.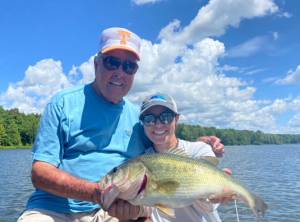 Bill helped me position the fish so that an image looked even bigger than it really was. I don't want to reveal his secrets, but what Bill did to the fish was insane and I had never seen it before. He adjusted the lure to sit perfectly for a photo and intricately wrapped the line around the fish's upper fin. "What are you doing? I asked." We're going to make that six look like a ten, "Bill said. Sure enough, Bill helped me get the perfect shot and my sixes were really huge on camera. . One thing I have learned is that Bill is all about the perfect picture. He will adjust you so that the light hits you well, tilt the fish to look bigger and wrap wire around it. of the fin to keep him upright. He even started adjusting my hat and telling me to wiggle sideways or the other so he could see the sponsor logos on the clothes I was wearing. promote his sponsors whenever he gets the chance, and so do I. So we were a great team.
Bill has all the tips, tricks, stories and jokes. I have learned so much. When I find myself in a situation like this, I have the attitude that I don't know anything and that I'm here to learn everything. I've fished with a lot of pros and connoisseurs, and try to be a sponge rather than a know-it-all. With Bill, I learned the benefits of putting circle hooks on a crankbait. He taught me how to fish better from standing timber. We've reviewed the best ways to call suspended fish, along with patterns and seasonal behavior. "Do you see them ?!" I answered a hundred times that day as Bill showed his Garmin. I learned that Bill once held a catfish record on my home lake, Lake Sinclair in Milledgeville, Georgia. I was surprised to learn that Johnny Morris bought the Memphis Pyramid and put a Bass Pro in it because of a bet with Bill Dance. "He told me he would put a Bass Pro in that pyramid if we caught a 30 pound catfish that day. And we did, so he did. Bill and his wife Dianne had also just celebrated sixty years of marriage, so he even gave me his secrets and advice on this. Bill is also a joker. If I ever looked away, he would hit my rod to make me think I had a fish.
We caught at least thirty fish that day and it was finally time for me to return to Georgia. Since Bill is a Tennessee fan, I made sure to bring a UGA hat for a photo. We were about to leave when I said "Mr. Bill, I have to take a picture in my Georgia hat with you, you know, for the folks at home." To my surprise, he said, "Oh, you want Luke's? You can have Luke's. He left it. Bill then pulled up a red hat with a Georgia "G" on it that had belonged to Luke Bryan. They had shot the music video a week before for Luke's new song. Bill Dance. Luke had left the hat in Bill's truck, which meant it was mine now. After that Bill started telling me directions to get back to the main road about 10 times. He said goodbye to me and I left knowing I had just had the best fishing trip of my life. I was so happy that I couldn't even understand how awesome it was until the next day.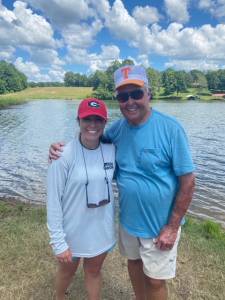 I take great pride in the work I do for the fishing industry, but honestly I'm just a girl who loves to fish. What is most important to me are the relationships built along the way, and I'm grateful to partner with great fishing brands and great people who make these opportunities a reality for me. I will always cherish this day and the memories I was able to share with a legend and everyone's hero, Bill Dance.
---
About Macy Watkins
Macy is an Angler, Hunter, God-fearing Outdoor Woman, Outdoor Industry Professional, State Publicist for Georgia Ducks Unlimited, and Graphic Designer for Athletics at the University of North Georgia.
Connect with her online https://linktr.ee/macywatkins