Football is by far the most popular sport for Brazilians, but for women going to stadiums to watch a game can lead to harassment, unwanted sexual advances and worse.
The plight of women in soccer matches came to the fore again this month when, on September 7, an ESPN reporter was harassed by a fan while reporting live ahead of a match at the Maracanã , the largest stadium in the country located in Rio de Janeiro.
During the report, a fan stood behind reporter Jessica Dias, rubbed her up and kissed her on the cheek. The episode sparked national outrage. The fan was arrested and spent the night in jail before being released. The journalist criticized the episode and demanded the punishment of her attacker.
"I have been sexually harassed at work and it is a crime. I didn't want a kiss, I didn't want affection, I didn't want to spend three hours in a police station. I just wanted to work," Ms. Dias said.
Teams, players, fans, journalists and NGOs have come to the journalist's defense and criticized the increase in cases of sexism and harassment against women in Brazilian stadiums in recent years.
A March survey of visitors to the Mineirão stadium in Belo Horizonte, one of the biggest in the country, showed that at least 55% of women had experienced or witnessed acts of sexual harassment at matches.
Another poll released in May by the Brazilian Public Security Forum, an association that collects information on crimes in the country, showed that on football match days, the number of threats against women increased by 23. .7% and the number of intentional physical attacks against women. increased by 20.8%.
According to the forum, the increase in violence against women is linked to the values ​​of patriarchy which are still very present in the country, "and the game of football can act as a kind of catalyst, reinvigorating the values ​​of masculinity". and how some men see themselves within a gendered power structure.
Not an isolated case
The harassment of journalist Jessica Dias is not an isolated case in Brazil. Last November, two cases were reported at the Mineirão stadium.
In the first, a man caressed the body of a student. In the second, a fan was forcibly kissed on the mouth.
These two episodes led to the creation of the "all against sexual harassment" campaign with the aim of raising public awareness.
Last September, another fan was harassed at the Maracanã. She said a man violently grabbed her arm and tried to grab her. When she reported the matter to the police, the woman said she received the following response: "Next time, leave the woman at home".
According to Elisabeth Murilho da Silva, doctor of social sciences, it is generally accepted that football stadiums are masculine environments. "Women, for a long time, had to wear 'disguises' – football shirts that didn't highlight their gender attributes," she said.
It's not just big stadiums, harassment against women also happens on small football pitches.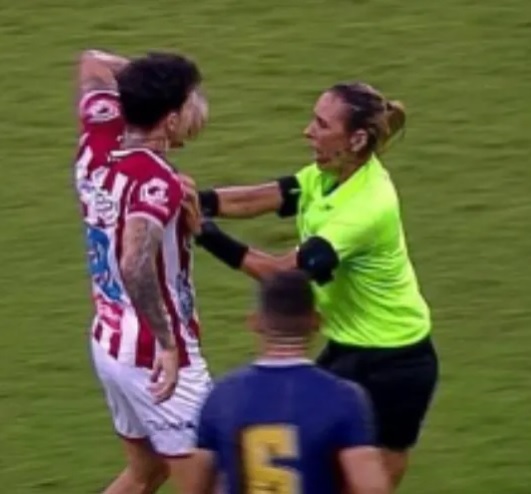 Despite having one of the most successful women's national teams in South America, female soccer players at all levels are often the target of harassment in Brazil.
Such was the experience of Giovanna, a 13-year-old girl who plays for a young boys' club in Rio de Janeiro because there is no women's team for her age group, according to Jornal Nacional.
Despite being one of her team's top scorers, Giovanna told the Jornal Nacional reporter that she still hears damaging comments from the stands.
"They say women should be in the kitchen, football is just for men and much worse. They get very angry at a girl who plays better than their sons. I think they are very jealous," she said.
Female referees also face aggression and harassment on the pitch. In May of this year, referee Deborah Cecília sent off a player during a state championship game. After receiving the red card, the player tried to tackle him and he had to be restrained by his teammates and the assistant referee.
Amendments to the Fan Defense Statute
The increase in gender-based violence in stadiums led federal deputy Sâmia Bonfim to introduce a bill on September 9 amending the Fan Defense Statute, a set of rules aimed at protecting people who watch football matches. in Brazil.
The MEP's proposal aims to guarantee more protection to victims in the event of harassment and sexism in stadiums.
Justifying the bill, Ms Bonfim said that despite being the majority in Brazil, women's right to attend sporting events safely is not being respected.
"Unfortunately sporting events, especially football stadiums, are an example of this," she said. "Many female supporters do not have a specialized channel to receive and send complaints. Helpless, when they go through similar episodes, they stop going to stadiums out of fear and insecurity.